The mark
Story
AlessAndro has been a French creator loan-with-to carry male for more than 30 years. Located in the district of the Marias since its beginnings, it brings today a total offer in the clothing of the Man.
Its products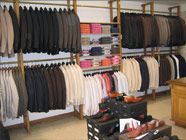 From creation to the realization (exclusively French or European manufacture), AlessAndro designs costumes, shirts, jackets, trousers, coats... resulting from most beautiful qualities of Italian fabrics with an excellent ratio price quality.
AlessAndro conforms to the humans right and the ecological standards for the environmental protection.